"This album contains eleven songs with three different band line-ups taken from Petit's live BBC sessions on The Paul Jones and Bob Harris Shows, and comes complete with on-air banter and an excellent interview. It all makes for a superb release by a major blues talent.
The first four tracks from The Paul Jones Blues Show features SDP and his band with a cracking horn section. Two instrumentals kick things off… sure, you've heard them before, but they sound so good it's worth getting these new versions anyway. 'Steppin' Out' first heard by me on the famous John Mayall Beano album with Eric Clapton, followed by 'Sacramento' one of Stephen's own numbers and very good it is too. This is in turn followed by 'As The Years Go Passing By', some great guitar and his vocals make this quite a standout track especially with the tight horn section getting involved. The fourth track from this session, "7 Cent Cotton", was previously available only as an extra on the BBC website, an original song that's another great piece of blues. This is cranked-up rockin' blues of the highest order and another standout track.
Then session two for Paul Jones. Again SDP and his (different) band with very special guest Mick Taylor, one of the finest guitarists of all time, especially on slide which features over the four tracks on this session. 'Goin' Away Baby' is followed by 'Love In Vain', once done by the Rolling Stones and which clearly suits MT – the slide guitar here is from the the top drawer and Mick gives a lesson on playing, tone and how to produce the best from playing at this level. Then it's Petit original 'Slide' and the great man Taylor is really in his element on another fabulous piece of guitar blues. The session is completed by a searing "A Better Answer". This set also includes Laurent Monflier on harmonica, which adds yet another element to the proceedings, and an altogether different sound from the first show but absolutely first class stuff.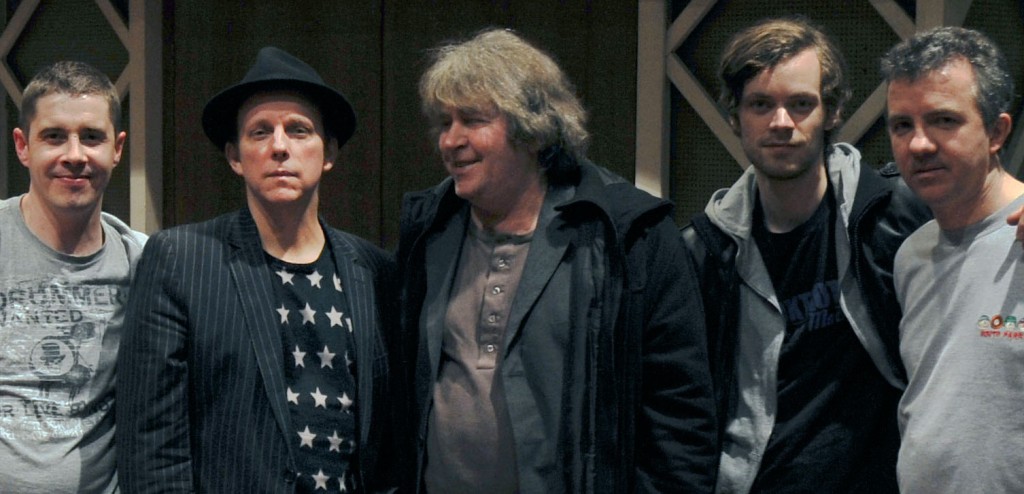 Then to complete the album, a three song set from Bob Harris's wonderful show plus an informed interview that makes good listening and much better than many I could mention. Music-wise we have another real treat (just a four piece band here) with all three tracks being Petit originals – one a slide acoustic piece that's pure blues magic.
All in all a release that is one of the absolute great blues albums of the year. SDP has such a passion for the blues, it's history and he's certainly a torch holder for the music in the 21st century but also a fine writer and player of the music. This truly is a very fine release indeed and will bring consistent pleasure to any blues or guitar fans who purchase it – it's blues of the very highest order indeed, by one of the finest talents on the scene today… buy with absolute confidence. Because of the involvement of two of the finest broadcasters there are in Paul Jones and Bob Harris we are given good information to add to the wonderful music produced here; what more could anyone want? BBC quality of sound, as always, is first class throughout – thanks to everyone involved!"
Tracks
---
---
---
7 Cent Cotton
Lyrics ↴
I burn a candle in your name
Become the moth I am to your flame
Seven cent cotton and serpent's tooth
Tell me some lies that I can't see through

Shake down the mountains, dry up the sea
Burn out the sun, give your love to me
Seven cent cotton and a serpent's tooth
I love your lies baby more than the truth

I sold my soul and you bought it
You fuck me baby like a hard narcotic
Seven cent cotton and serpent's tooth
I love your lies baby more than the truth

I burn a candle in your name
Become the moth I am to your flame
Seven cent cotton and a serpent's tooth
Tell me some lies that I can't see through

Shake down the mountains, dry up the sea
Burn out the sun, give your love to me
Seven cent cotton and a serpent's tooth
I love your lies baby more than the truth

Come on, lie to me baby

Copyright © 2006 Serious Delta Papa Music

Appears on "The BBC Sessions" (Live Version) © 333 Records Ltd
Also on "Guitararama" and "7 Cent Cotton (Radio Edit)" (Single Version) © 333 Records Ltd
---
---
---
Slide
Lyrics ↴
Slide, slide over here
Slide over here, baby, yeah…
It's a lock down 'til you pass out
Slide over here

Well, John the Revelator had seven seals to break
They call me Mr. Richter 'cause I always make 'em shake

Slide over here
Slide over here.
It's a lock down 'til you pass out
Slide over here.

I'm goin' deep down in your connection
Gonna play with your wire
Gonna mash down on your starter, 'til your spark plugs on fire

Slide over here
Slide over here
Up and down my slider, baby
Slide over here

I'll give you 99 reasons on a 4 day jag
You're moanin' and you're screamin'
It's the best you've ever had

Slide
Slide over here
Up down slider baby
Slide over here

Just like Mississipi John Hurt said
I'm a spike drivin' man
Gonna nail ya to the bed

Slide over here
Slide over here
It's a lock down 'til you pass out
Slide over here

Copyright © 2010 Serious Delta Papa Music

Appears on "The BBC Sessions" (Live Version) © 333 Records Ltd
Also on "The Crave" © 333 Records Ltd
---
A Better Answer
Lyrics ↴
W10 top deck on a 52 bus
You're sittin' there, no cares, like you've got it sussed
I don't mean to be unkind but I think you've lost your mind
Old Joe's big promises have bitten the dust

I wanna scream and shout about it
Somebody somewhere has gotta have a better answer

It's hottin' up, just enough boy, to make ya sweat
Scientists don't know how hot it will get
Am I really to pretend? I can't seem to comprehend
I just wanna smoke my cigarettes

I wanna scream and shout about it
Somebody somewhere has gotta have a better answer


Watchin' me, watchin' you, baby it's a slam
Like a hotel pool in a traffic jam
All the things that you have said are now driving through my head
Help me please
Send a text tell me who I am

I don't wanna fight about it
Somebody, somewhere has gotta have a better answer

I wanna scream and shout about it
Somebody somewhere has gotta
Somebody somewhere has gotta
Somebody somewhere has gotta have a better answer

Copyright © 2006 Serious Delta Papa Music

Appears on "The BBC Sessions" (Live Version) © 333 Records Ltd
Also on "Guitararama" and "A Better Answer" (Single Version) © 333 Records Ltd
---
My Friend Bob
Lyrics ↴
My friend Bob is cocaine crazy
No he ain't lazy
He'll lend you five dollars
So that he can collar you for fifty more

My friend Bob is Ginsberg trippin'
His iceberg is slippin'
Into hot water you'd think that he oughta swim for the shore

He's got a frayed cloth Guthrie hat
A back pocket full of excuses that
He'll tender at a moment's notice
He's got a boot lace mandolin heart
Torn & tattered from playin' the part
Of a dust-bowl clown livin' on promise

My friend Bob
A vagabond genius
A little bit fiendish
Subscribes to the theory of Timothy Leary 1966

My friend Bob
A hobo icon
Yeah, he's so right on
You're thankful to be in the presence of his guru peasant's hippy tricks

He's got a frayed cloth Guthrie hat
A back pocket full of excuses that
He'll tender at a moment's notice
He's got a boot lace mandolin heart
Torn & tattered from playin' the part
Of a dust-bowl clown livin' on promise

Copyright © 2013 Serious Delta Papa Music

Appears on "The BBC Sessions" (Live Version) © 333 Records Ltd
Also on "Cracking The Code" and "My Friend Bob (Radio Edit)" (Single Version) © 333 Records Ltd
---
It's All Good
Lyrics ↴
Waitin' for a new God baby
Reachin' out for you
Come and make my body shake with your sugar spoon
It's all good.

The hourglass is running, it's a race against the clock
Mug me off, the penny drops, I'm off like a shot
It's all good

It's all good!

Appears on "The BBC Sessions" (Live Version) © 333 Records Ltd
Also on "The Crave" and "At High Voltage" (Live Version) © 333 Records Ltd

Oversexed in overdrive
I can't be satisfied
Slavin' just for readies ain't it great to be alive
It's all good
It's all good
It's all good…

Copyright © 2010 Serious Delta Papa Music

Appears on "The BBC Sessions" (Live Version) © 333 Records Ltd
Also on "The Crave" and "At High Voltage" © 333 Records Ltd
---
A Better Answer (Acoustic Version)
Lyrics ↴
W10 top deck on a 52 bus
You're sittin' there, no cares, like you've got it sussed
I don't mean to be unkind but I think you've lost your mind
Old Joe's big promises have bitten the dust

I wanna scream and shout about it
Somebody somewhere has gotta have a better answer

It's hottin' up, just enough boy, to make ya sweat
Scientists don't know how hot it will get
Am I really to pretend? I can't seem to comprehend
I just wanna smoke my cigarettes

I wanna scream and shout about it
Somebody somewhere has gotta have a better answer


Watchin' me, watchin' you, baby it's a slam
Like a hotel pool in a traffic jam
All the things that you have said are now driving through my head
Help me please
Send a text tell me who I am

I don't wanna fight about it
Somebody, somewhere has gotta have a better answer

I wanna scream and shout about it
Somebody somewhere has gotta
Somebody somewhere has gotta
Somebody somewhere has gotta have a better answer

Copyright © 2006 Serious Delta Papa Music

Appears on "The BBC Sessions" (Acoustic Version) © 333 Records Ltd
Also on "Guitararama" and "A Better Answer" (Single Version) © 333 Records Ltd
---
---